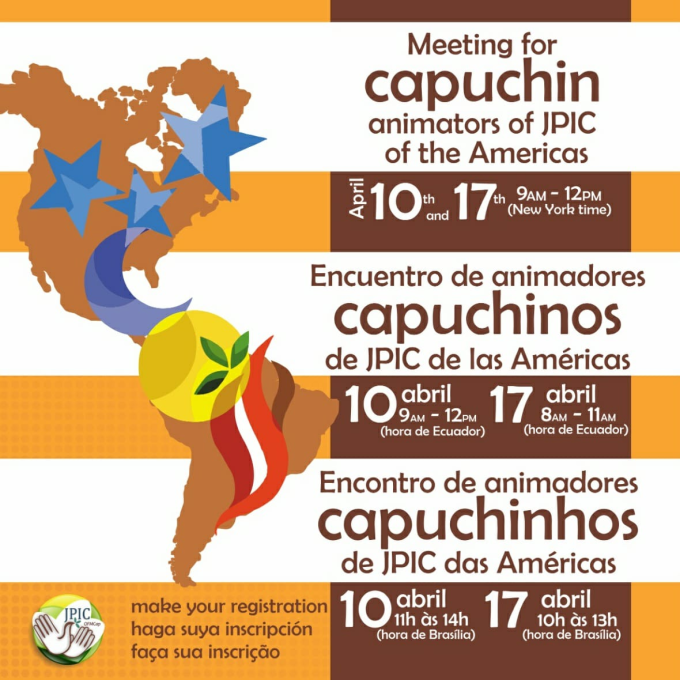 JPIC PANAMERICAN Conference 2021
JPIC PANAMERICAN CONFERENCE
10 & 17 April 2021
ENGLISH: JPIC PANAMERICAN Conference
In anticipation of the PANAMERICAN Conference of 2022, the JPIC Animators together with the General Curia, the Superiors of PANAMERICA and the laity conducted a two day online conference following the spirit of the theme of the PANEMERICAN CONFERENCE 2022: "REVIVE OUR CHARISM IN THE AMERICAS."
The participants gathered to share their experiences, insights, knowledge of the JPIC reality in PANAMERICAN with the goal of coming up with a document to be contributed to the PANAMERICAN CONFERENCE 2022.
ITALIANO: Conferenza PANAMERICANA di GPIC
In previsione della Conferenza PANAMERICANA del 2022, gli Animatori di GPIC insieme alla Curia Generale, i Superiori di PANAMERICA e i laici hanno condotto una conferenza online di due giorni seguendo lo spirito del tema della CONFERENZA PANEMERICANA 2022: "RIVIVERE IL NOSTRO CARISMA NELLE AMERICHE".
I partecipanti si sono riuniti per condividere le loro esperienze, intuizioni, conoscenze della realtà di GPIC in PANAMERICA con l'obiettivo di elaborare un documento da contribuire alla CONFERENZA PANAMERICANA 2022.
ESPAÑOL: Conferencia PANAMERICANA de JPIC
En previsión de la Conferencia PANAMERICANA de 2022, los Animadores de JPIC junto con la Curia General, los Superiores de PANAMERICA y los laicos realizaron una conferencia online de dos días siguiendo el espíritu del tema de la CONFERENCIA PANEMERICANA 2022: "REVIVIR NUESTRO CARISMA EN LAS AMÉRICAS".
Los participantes se reunieron para compartir sus experiencias, percepciones, conocimientos de la realidad de JPIC en PANAMERICA con el objetivo de llegar a un documento que se aportará a la CONFERENCIA PANAMERICANA 2022.
PORTUGUÊS: Conferência JPIC PANAMERICAN
Em antecipação à Conferência PANAMERICANA de 2022, os Animadores JPIC juntamente com a Cúria Geral, os Superiores da PANAMERICA e os leigos realizaram uma conferência on-line de dois dias seguindo o espírito do tema da CONFERÊNCIA PANEMERICANA de 2022: "REVIVER NOSSO CARISMO NAS AMÉRICAS".
Os participantes se reuniram para compartilhar suas experiências, insights, conhecimento da realidade JPIC no PANAMERICANO com o objetivo de elaborar um documento a ser contribuído para a CONFERÊNCIA PANAMERICANA DE 2022.
FRANÇAIS : Conférence JPIC PANAMÉRICAINE
En prévision de la Conférence PANAMÉRICAINE de 2022, les Animateurs JPIC, en collaboration avec la Curie Générale, les Supérieurs de PANAMÉRIQUE et les laïcs, ont organisé une conférence en ligne de deux jours, dans l'esprit du thème de la Conférence PANAMÉRICAINE 2022 : "Raviver notre charisme dans les Amériques".
Les participants se sont réunis pour partager leurs expériences, leurs points de vue, leurs connaissances de la réalité de JPIC en PANAMERIQUE dans le but d'aboutir à un document à soumettre à la CONFERENCE PANAMERICAINE 2022.
JPIC PANAMERICAN CONFERENCE

"Revive our charism in the Americas"